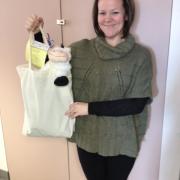 Kits for Kids is a project of the Elgin Children's Foundation in partnership with Family & Children's Services of St. Thomas and Elgin.
Sadly, it is a fact that children entering a child protection service, often arrive with little or nothing of their own – sometimes just the clothes on their backs. While Family and Children's Services is committed to providing basic necessities and clothing, the Elgin Children's Foundation has developed an idea to provide additional comfort items – something a little more personal, something a child can call their own. The purpose of the project is to help kids with the transition of entering into a foster home or a kinship home by providing them with useful and comforting items.
Each kit comes with an implicit message – we care about you and you are important. Kit contents are comprised of age appropriate items and include things like pajamas, personal hygiene items, polar fleece coverlet, and a stuffed animal. Items are packaged in a durable cotton canvas bag – handy for carrying personal belongings wherever they go.
"Everything in the kit is so special! He loves the little dog and named him "coconut". He sleeps with him every night" – Zach - 5 years old

"Our little four month old baby loved the little stuffed monkey. We had his pictures done with it!" - Laurie - Parent

"When I opened the bag I was so proud of when I saw my soft blanket and my stuffed toy they were very nice and I mean nice. Thank you so much :)" – Josh - 8 years old

"Thank you what a great program. I had one of these (stuffed bear) until........broke it. This is like the best thing ever.....shampoo and conditioner – awesome" - Olivia - 8 years old
How You Can Help
A donation of $40 will purchase one complete kit.
We believe that this project is an investment in the community's future but we can't do it without the community's support. We would be happy to provide you with additional project information or come and make a presentation to your group – just give us a call.
To receive more information about donating towards this important service for children entering care, please contact us.